pollinators
Paintings of bees and butterflies seen up close. Created under a grant from the Haines & Friends Fund of Ashland. Reproduced on waterproof, fade-resistant Sintra panels to be installed in the Food Forest orchard of The Farm at Southern Oregon University's Center for Sustainabilityon Arbor Day 2016.
Bee's Tongue
Want to collect pollen grains? Just visit a raspberry flower when its anthers are releasing their grains. You might even meet "Colletes Willistoni", a bee with a split tongue that feeds both pollen and nectar to its young.
Bee's Eye and Antenna
When you're standing on a bee's head, its multi-faceted eye and movable antenna look quite dramatic. Flowering currant pollen grains are in the air and get caught in the bee's hairs. They will be carried to other currant flowers to fertilize them and thus produce fruit.
Bee's Foot
Hitch a ride on a bee's foot and visit the land of an elderberry leaf. There you can explore the leaf's breathing pores ("stomata") through which the leaf inhales carbon dioxide and exhales oxygen in its daily work of photosynthesis.
Bee's Wings
Getting ready to fly, the bee hooks the row of hamuli, or hooks, on its hind wings onto a groove on its front wings. Thus, its front and hind wings will beat together with improved aerodynamic efficiency. When at rest—riding on an elm seed, for example—the bee de-couples its wings and holds them over its back, front wing folded over hind wing.
Butterfly's Wing
Look closer, closer, closer at a butterfly's wings. You'll see rows of scales arranged like overlapping tiles on a roof. Look even closer at each scale to see parallel ribs connected by rods. The nano-sized spaces between the ribs and the cross bars diffract light selectively, thus producing the many colors of the wings.
Butterfly's 'Tongue'
Butterflies suck nectar through the central tube of their proboscis, or long tubular mouthpiece that works like a straw. Here, a monarch butterfly has feasted on milkweed. When not in use, the proboscis coils up into a spiral.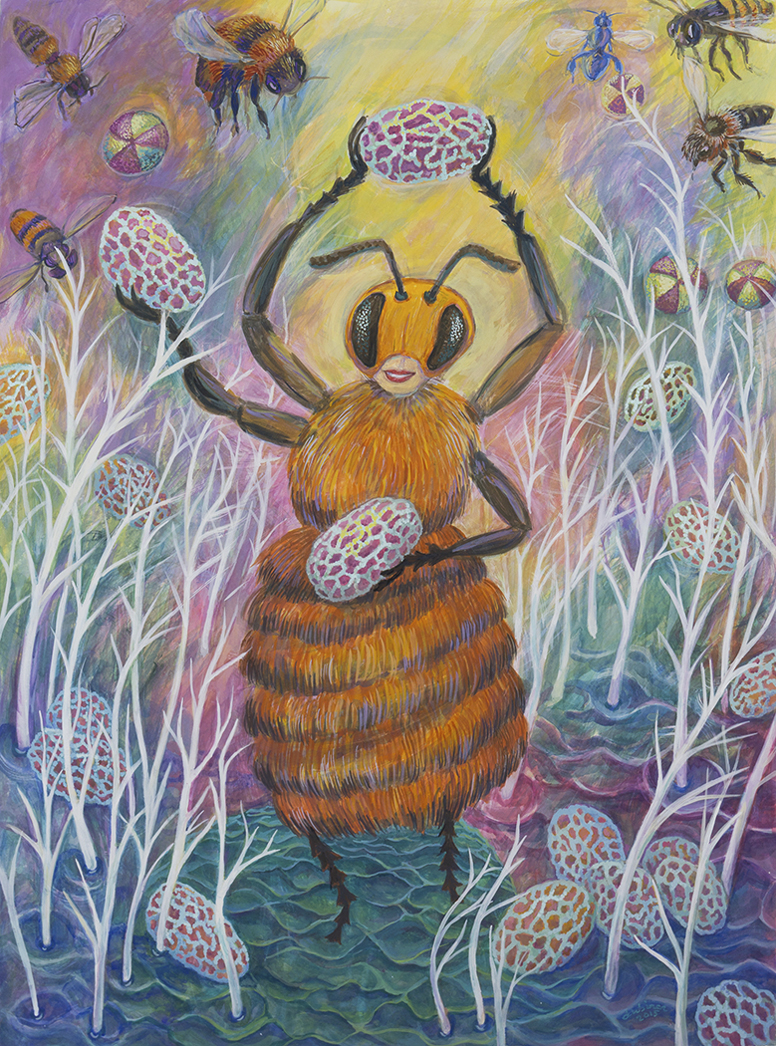 Dancing Bee
Our part-human honeybee dances in a bioscape where oversized pollen grains have become caught among similarly enlarged bee hairs. She delights in the rainbow colors around her and her ability to pollinate plants. Other species of bees are flying in to join her. Thanks to the scanning electron microscope, we are able to enter the world of our insect benefactress.